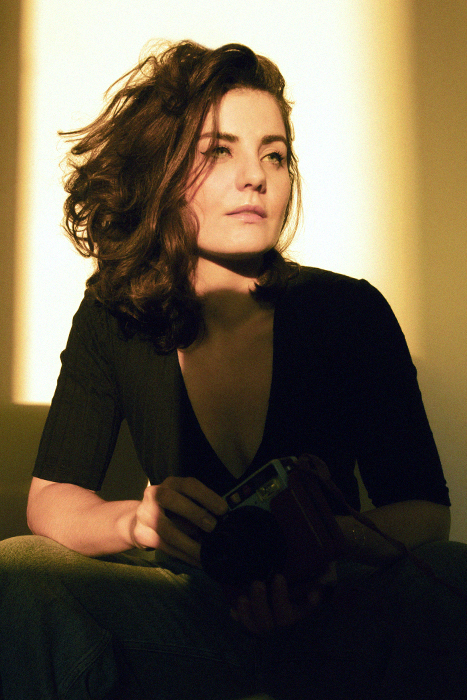 CHRISTINE LIPSKI IS A GERMAN-BASED PHOTOGRAPHER.
HER FOCUS IS ON PORTRAIT AND FASHION.
Christine Lipski was raised by two protestant pastors in a small town in eastern Germany. In 2011 she began studying photography in Hamburg, which she completed with honors. She is deeply interested in the life histories of individuals. Her aim is to capture their ways of identification and to connect these with her own sense of aesthetics, creating a synthesis of both. Since her teenage years, she has been interested and involved in the art and music scene and had a direct connection to artists and musicians, who she started to portray. With 15 years she started her first photography assistant job and knew this would become her profession. In the upcoming years she spent her time learning everything about photography.
During the past years, she lived and worked in Berlin, New York and Hamburg, developing high standards for visual storytelling. After working for the famous photographer Larry Fink in the USA, she was inspired to do her own exhibitions. From 2018 to 2020 she worked on her first long term series and photographic book FEMALE ARTISTS, portraying and interviewing inspiring women artists in the USA and Europe to acknowledge the influence and the work of female artists in the 21st century. FEMALE ARTISTS was exhibited several times. Through the project Christine Lipski was invited to podcasts, live talks and events, addressing the topic of gender equality in the industry. Currently she is working on her second portrait, film project and photo book about female leadership. 
Christine Lipski has created intimate portraits for many artists, dancers, actors, musicians and celebrities like Lena Meyer-Landrut, Emily Beecham, Luise Befort, Kai Pflaume, Mady Morrison, Ben Dahlhaus, Dan Fox, Phenix Kühnert. She has been working for different clients and publications like ZEIT Magazine, Women's Health, GQ Germany, i-d Germany, Drykorn, Schwarzkopf Pro, FILA Europe, Art Directors Club Germany to name a few. 
Christine Lipski is between Hamburg and wherever her assignments and projects take her.
SAY HELLO
Mail: mail@christinelipski.com
Phone: +49 (0)176 82341434
Instagram: @christine_lipski
Based in: Hamburg, Germany
---
SELECTED CLIENTS & PUBLICATIONS
---
EXHIBITIONS & TALKS
2019-09 – 100% Streetstyle, Oberhafen, Hamburg
2020-02 – FEMALE ARTISTS, Exhibition, Art Space Âme Nue, Hamburg
2020-04 – ONE Hamburg, FEMALE ARTISTS, live talk
2020-07 – Millerntor Gallery, NARRATIVES OF WOMEN & FEMALE ARTISTS, virtual exhibition & live talk
2020-09 – Bell Collective, FEMALE ARTISTS, Podcast
2020-11 – ABOUT YOU x GRL PWR, Live Speaker for Female Empowerment
2021-09 – PHOTOPIA HAMBURG, Collaboration with Viva con Agua ARTS X CHRISTINE LIPSKI, Live Speaker, exhibition FEMALE ARTISTS
2022-03 – ByteFM Hamburg Livetalk Interview 'Stadtmagazin'
2022-06 – MILLERNTOR GALLERY X FEMALE ARTISTS, Hamburg, Exhibition
2022-09 – THE SPACE X FEMALE ARTISTS, Hamburg Ballindamm 7, Exhibition IDENTITY
2022-11 – QVARTR GALLERY BY LEBEFRAUU X GIRLS FANTASY by Christine Lipski, Hamburg, Exhibition THE FUTURE IS NOT FEMALE
2023-07 – THE SPACE x Christine Lipski, Exhibition WAVES, Hamburg, SPRINGER QUARTIER
2023-09 – Art Directors Club x PHOTOPIA, Speakerin "Beyond the Photoverse" Congress
---
FEMALE ARTISTS MAGAZINE
FEMALE ARTISTS is a photographic project to acknowledge the influence and the art of women in the 21st century.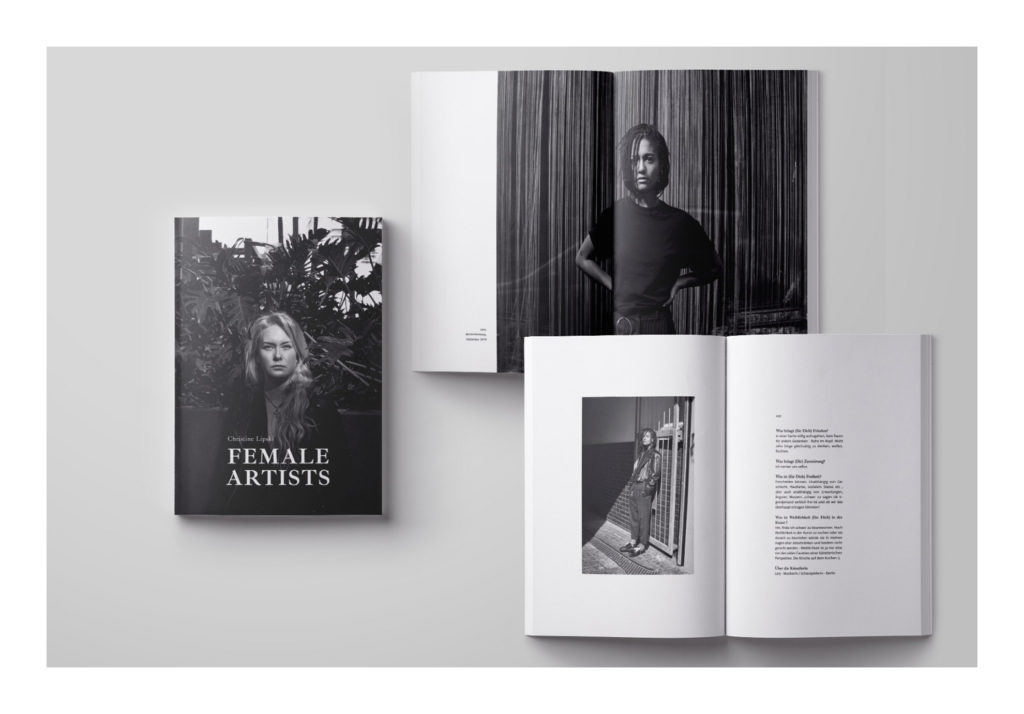 The portraits are completed by an interview and statement of each artists, which ought to reflect their way of living and thinking. The Magazine shows a selection of the statements of the artists and is available upon request. For purchase please visit: artcreateswater.org/photopia
Copyright © Christine Lipski All rights reserved. Unless otherwise indicated, all material on this website remains the intellectual property of Christine Lipski. It is not permitted to publish, reproduce, or distribute any images or textual content without prior written permission by Christine Lipski. Christine Lipski does not take any responsibility regarding information and content displayed on external linked websites.